Want to snag some great free goodies from a bunch of great designers? Follow the Digiscrap Forum February Blog Train! Here is a peek at what we have for you.
To go along with the freebie that I'm offering you I also have a full kit that you can grab in my stores and a fan freebie for my Facebook followers.

Here is a look at the full kit available on sale now in all of my stores.
I also have matching Valentine's Day Cards for this kit in my personal store, QueenBrat Digital Designs and at MyMemories.com. You can grab these for just 99¢.
And for you Facebook users hop on over and "LIKE" my page to grab this little goodie:
Facebook Fan Freebie can be picked up here:
http://www.facebook.com/QueenBratDesigns
And finally here is your freebie from me. It is a matching alpha to the "Sweet February" kit. Please remember it's for personal use only.
Grab your freebie here.

Due to some problems with the blog, please follow the train from our forum:

http://www.digishoptalk.com/boards/showthread.php?p=3399911#post3399911

Thanks for visiting and enjoy the goodies! Renee'
My personal store:




Other Stores Where My Designs Can Be Found:








Join Me:






My Scrapping Blog For Freebies and Other News




Signature Tag Tutorials by QueenBrat Designs




My Website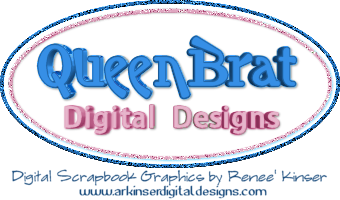 Use the code: STMMMS64124




There was but one perfect man.....I'm just FORGIVEN!